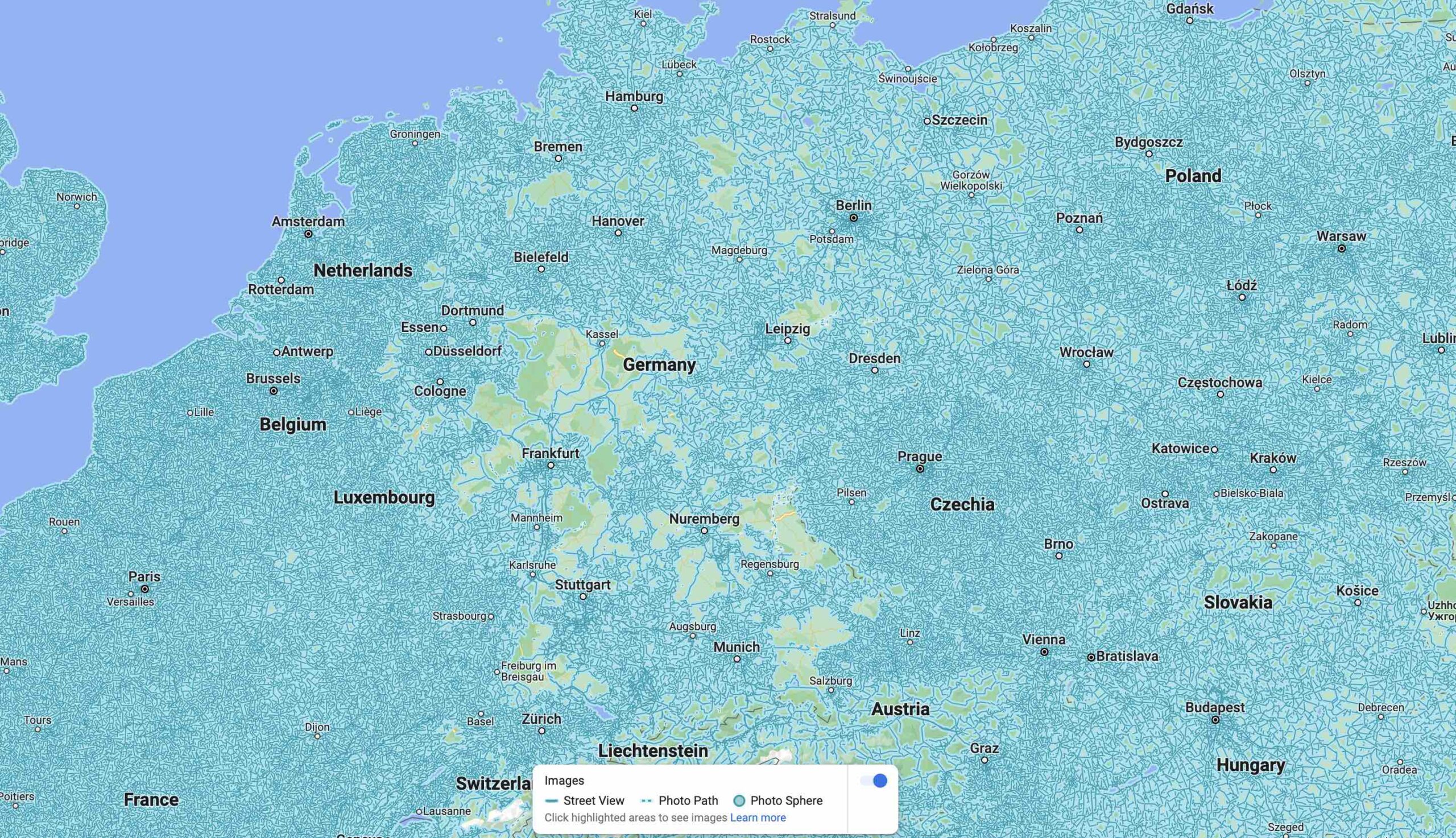 OSINT In Germany: Google Maps Street View Returns!
Open Source Intelligence (OSINT) in Germany is about to get bolstered thanks to the return of Google Street View. Geolocation and visual investigations overall will get turbocharged as Google Street View is resurfacing in Deutschland.
For over a decade, Google Maps' Street View has been transforming the way we explore – and investigate – the world. However, not all nations have embraced this technology with open arms. Germany immediately comes to mind, where privacy concerns and legal battles resulted in Google halting its Street View rollout back in 2011.
In the early years of Street View, Germany's reservations led to the service covering only around 20 major cities, before being discontinued. However, Germany's street view coverage has increased persistently throughout the years, with most major cities having imagery from 2022. 
The catch is that many of these images are crowdsourced, taken by users, and not professionally captured by "Googlemobiles."
RETURN OF STREET VIEW
On June 8, 2023, Google announced that it would re-commence the Street View program in Germany and update the mostly outdated imagery. 
This comeback has been well-prepared. Google took the initiative to partner with a German government privacy agency to ensure that the new imagery aligns with the nation's stringent data privacy regulations. 
One crucial aspect of this collaboration is the requirement to delete older images. This is, however, a loss for OSINTers, as being able to analyze change throughout time is invaluable. 
Still, the gains should outweigh the losses. Outdated Street View imagery has long posed challenges in geolocation efforts, with past photographs misrepresenting current surroundings. 
2022 IS ALREADY ONLINE
On July 25, 2023, Google announced that they had started to update Street View imagery with photos taken in 2022. This measure bridges the gap until this year's photo capture is finalized, processed, and uplinked. 
The first wave of updates covers the 20 largest cities, such as Berlin, Hamburg, and Munich, providing up-to-date and detailed imagery for exploration. 
APPLE'S LOOK AROUND 
Google is not the only such service allowed to document the country's streets. 
Apple's Look Around, a counterpart to Street View, is already in the process of photographing different German cities. Their schedule shows that work will continue throughout October 2023. 
WILL THEY STICK?
Many of you may say, 'alright, this is a nice development, but are these services here to stay? Can we rely on street view in the long run?'
Well, Google claims one of their polls found that over 90% of Germans have a positive view of Street View. If the results are to be believed, they may reflect a changing attitude towards visual data sharing. However, given Germany's ingrained privacy orientation, one can never tell.  
If your OSINT operations in Germany depend on visual data sets such as the ones provided by Street View or Look Around, take advantage of them as long as they last.
P.S. Want to learn more about how Google Maps or Earth can enhance your research?
Drop me a message!
---
by Vlad Sutea