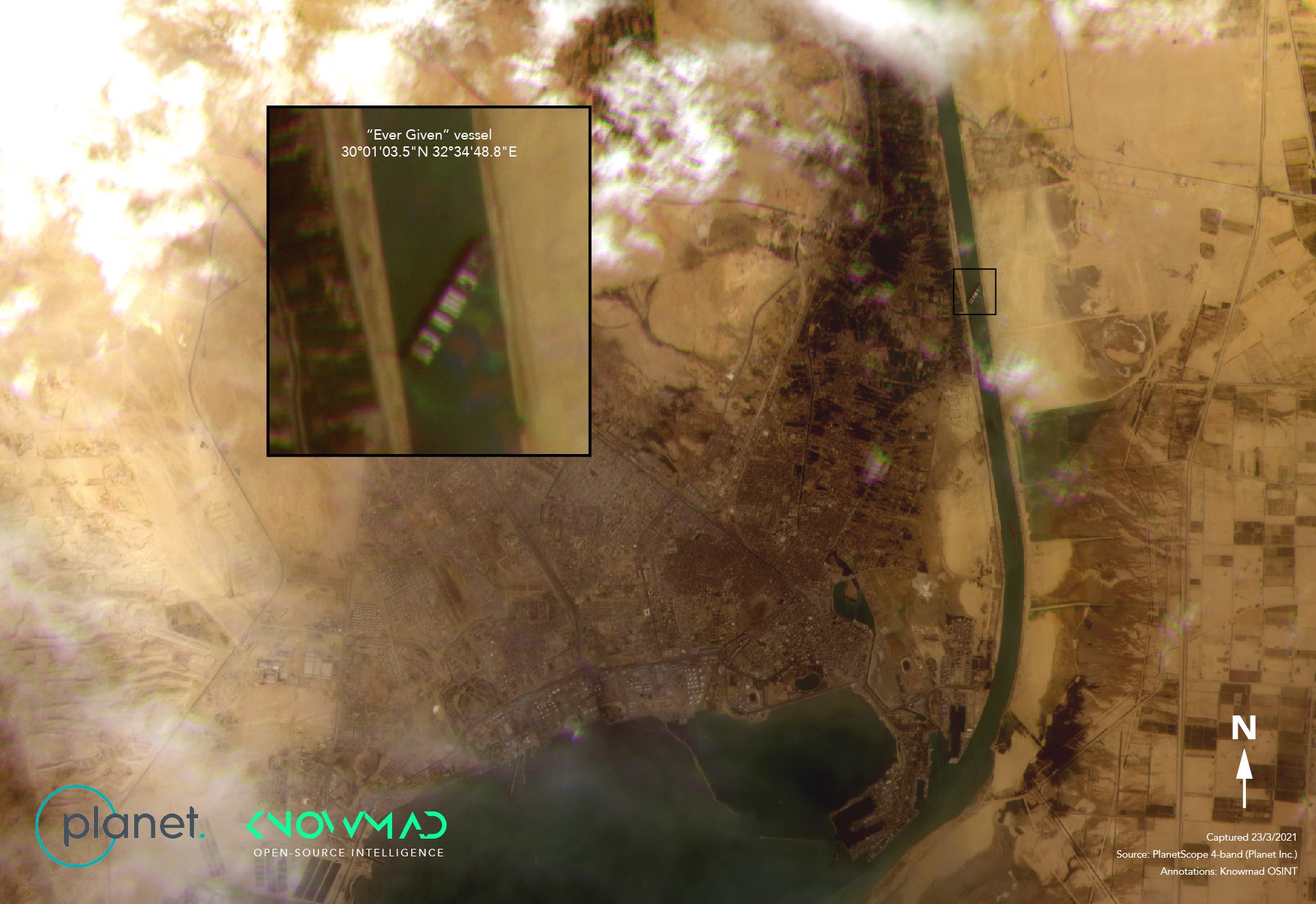 What's the Hold Up? Vessel Blocks Suez Canal
One of the world's biggest vessels got stuck sideways in Egypt's Suez Canal, bringing maritime traffic to a halt. Satellite imagery shows the Panamese-flagged "Ever Given" container vessel glued to the banks of the Suez canal.
This unfortunate situation however, provides a useful case study for enhance situational awareness using Open-Source Intelligence (OSINT) tools. By fusing satellite imagery, vessel trackers, and social media monitoring (centred on topical hashtags) we can paint a bigger picture of what is happening on the ground (or at sea in this case), without waiting for official or media updates. 
The incident occurred on 23 March at around 7.40 local time, when Ever Given ran aground while maneuvering in the narrow passageway. According to the Suez Canal Authority (SCA), the ship was caught in a sandstorm (a common phenomenon in Egypt's Sinai desert at this time of year), which reduced the captain's visibility.
The 400-meter long "sea beast" retains its position even today, 24 March. Photos on social media show the gravity of the situation. Excavators and heavy-duty vehicles work tirelessly to remove parts of the Canal's bank and free the vessel's bow. Egyptian authorities said that it could take up to two days to dislodge the ship. At least five tugs and support vessels appear on vessel trackers.
With no way to circumvent Ever Given, massive queues have formed at the channel's northern and southern entrances. Dozens of tankers, containers, and other vessels of all flags idle anchored as far as the Red and the Mediterranean Seas.
Nearly 19,000 ships, or an average of 51.5 ships per day, with a net tonnage of 1.17 billion tonnes passed through the canal during 2020, according to the Suez Canal Authority, as quoted by the Maritime Executive. 
The good news is that the port authorities have managed to partially refloat the container ship. Hopefully, the seafarers idling at the bottlenecks will be able to continue their journey within the next 24 hours. 
UPDATE 27 March 2021
Nope, the ship is still stuck. Follow this threat on Twitter for a compilation of cool-hi resolution satellite images of Ever Given:
Satellite imagery from yesterday shows #EverGiven stuck sideways in the #Suez Canal + long queues forming towards the Mediterranean and Red Seas. The vessel has since been partially refloated. https://t.co/se2Z9ewz2s pic.twitter.com/V78kkVthFK

— T-Intelligence (@T_intell) March 24, 2021
Want to stay updated with the status of the ship? Keep an eye on istheshipstillstuck.com
P.S: I couldn't help but think of this scene from Austin Powers. Kind of sums up the Ever Given situation, doesn't it?
by Vlad Sutea