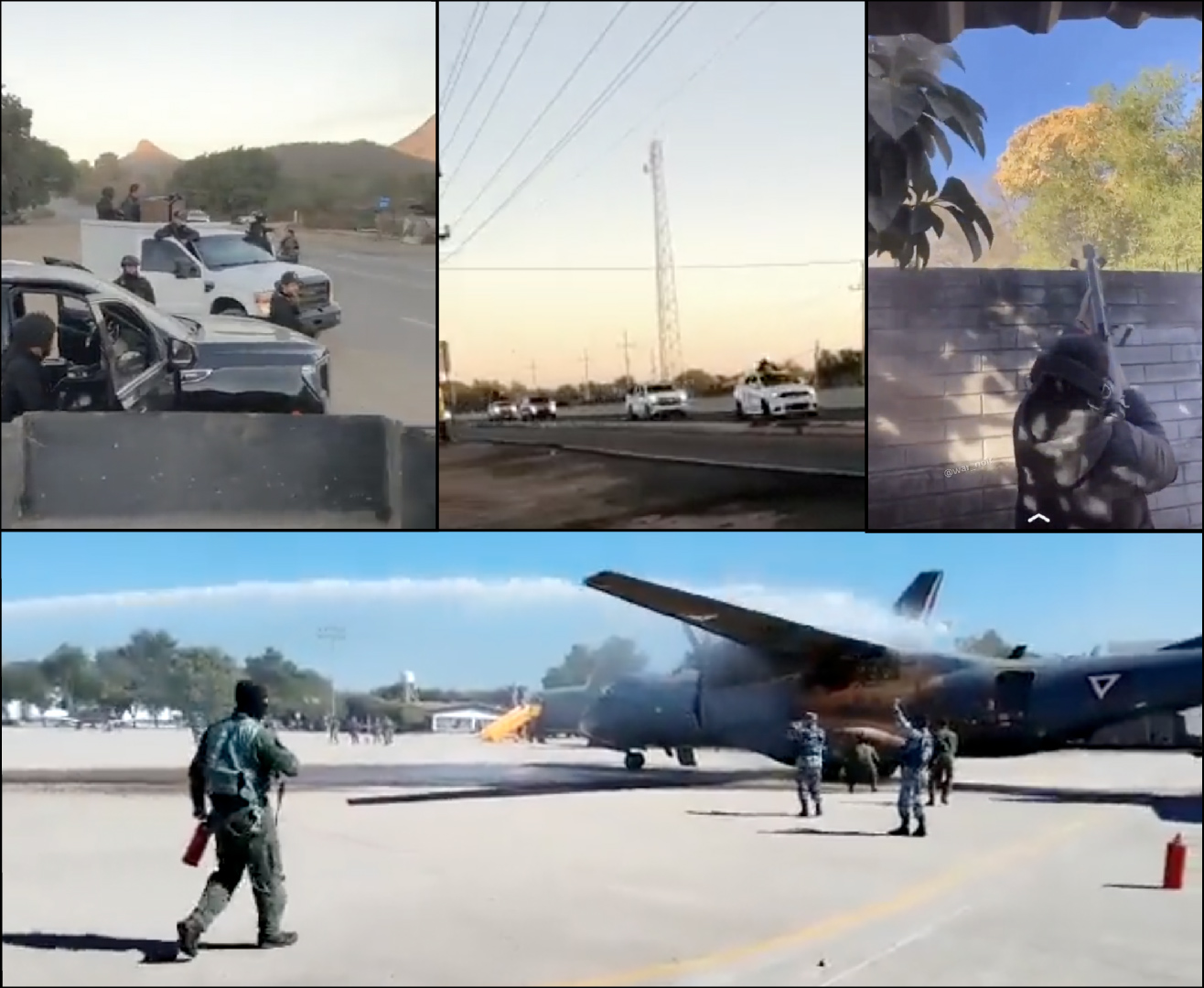 Second Battle of Culiácan seen through OSINT
As many of you may have seen or heard, the Mexican city of Culiácan erupted into a full-blown war on January 5, 2023. The reason? A Mexican military snatch-and-grab operation with Ovidio Guzmán López, aka "El Raton," in the starring role, again. Ovidio inherited a significant portion of the Sinaloa cartel after his father, Joaquín "El Chapo" Guzmán, was captured for the third time in 2016. 
CARTEL VS MEXICAN MILITARY: NEAR REAL-TIME COVERAGE
Thursday's capture operation stirred the hornet's nest quite a bit. Once Guzman was seized, social media channels, flight trackers, and other open-source tools erupted with data, providing observers with near-real-time situational awareness of the ensuing crisis. The scores of videos and photos shared by eyewitnesses or cartel members showed the scale of the Sinaloa cartel's violent reaction to Guzman's apprehension. Although, users beware, a vast amount of the content you will find on social media attributed to this episode is actually recycled from past or other security incidents and battles.
Also, viewer discretion is advised. 
FLASHPOINT CULIACAN AIRPORT
Culiácan airport emerged as one of the battle's focal points. Cartel members tried intercepting Guzman before the military could airlift him away. And by intercept, I mean they shot at everything that moved- or flew, in this case. 
I bet you all saw this viral video, likely filmed by a cartel member, showing a sicario firing a Barrett .50 cal anti-material rifle at an aircraft overhead. 
#Mexico 🇲🇽: Heavy clashes occured between the #Sinaloa Cartel (Cártel de Sinaloa) and Mexican Army.

A video shows cartel member open fires on an aircraft belonging to Mexican Forces near #Culiacán Airport:
The member uses a .50 Cal (12.7x99mm) Barrett M82A1 anti-materiel rifle. pic.twitter.com/2Tsic6tfwB

— War Noir ☃️ (@war_noir) January 5, 2023
At least four Mexican Air Force (MAF) pinged over Culiácan during the operation:
Boeing 737-8ZY FAM3527

Boeing 737-8ZY FAM3526

CASA CN-235 Persuader 

Beechcraft B350 Intelligence, Surveillance, and Reconnaissance (ISR) modification
Culiacan #Sinaloa #Mexico, Ovidio Guzmán, the son of El Chapo and one of the leaders of the Sinaloa Cartel, was arrested:
-Mexican Air Force 737-8ZY FAM3527
-Mexican Air Force 737-8ZY FAM3526 pic.twitter.com/08pMoGYFX6

— Manu Gómez (@GDarkconrad) January 5, 2023

*Several U.S. military flights were also active over Mexico during the operation, although a connection to the Culiacan op is not a given. 
The cartel seemingly managed to damage two MAF aircraft, (Boeing 737 FAM3526 andCASA CN-235). The CN-235 reportedly came down with engine problems, and a video shows a firefighting crew blasting water at one of its wings. What happened to FAM3526 remains unclear but at least one image suggests the aircraft was damaged by small arms fire. 
A #Mexico Air Force CASA C-295 (unknown serial) transport sustained gunfire damage while approaching the #Culiacan Internation Airport, during operations aimed at capturing El #Chapo Guzmán's son, Ovidio Guzmán. The aircraft landed with an engine on fire. pic.twitter.com/o1fYfdTYiS

— The Latin American Aviation Historical Society (@The_LAAHS) January 5, 2023
Aeromexico's Flight AM165 also caught some bullets as it accelerated for take-off. A video from inside the plane shows the passengers crouching and cowering in their seats moments after the impact. 
BREAKING: Passengers onboard an Aeromexico flight duck for cover after it was shot at in Culiacan, Mexico. At least one bullet hit the fuselage in the moments after El Chapo's son was captured. pic.twitter.com/HYPYDF58xX

— Sam Sweeney (@SweeneyABC) January 5, 2023
WIDESPREAD CLASHES 
The airport was just one of the focal points. Gunfights erupted across Culiácan and the state of Sinaloa. It seems that compared to previous raids, the Mexican government deployed a sizeable contingent of military forces and federal police to contain violence in the city and ensure external security.
The cartel remained largely active in the countryside but also managed to inflict pain throughout the city, aside from the airport assault.  
The video bellow shows Sinaloa cartel members holding position in a rural area. Again, we can see their gear and weapons, as well as their shinny SUVs. 
More footage of Barrett M82A1 and FightLite Industries MCR or ARES-16 (Belt-fed AR-15 upper) used by Sinaloa men in the vicinity of #Culiacánpic.twitter.com/LmPTXP4UWM

— Cᴀʟɪʙʀᴇ Oʙsᴄᴜʀᴀ (@CalibreObscura) January 6, 2023
Almost every cartel in every large regional city can call this amount of soldiers up and take over the city in an hour or two pic.twitter.com/uCqgmuv5OR

— Lost Weapons (@LostWeapons) January 6, 2023
THE FIRST BATTLE FOR CULIACAN 
Despite the cartel's violent outburst, the Mexican military got away with it, and Guzman is in custody. But at the cost of 29 dead.
If you think this was intense, bear in mind the Mexican military has also attempted to capture capture Ovidio Guzman in the past, hence the sequel-hinting title. The first try was in October 2019 and had a similarly deadly outcome. While the military managed to snatch Guzman, the Sinaloa cartel essentially besieged Culiacan. The cartel's show of force worked back then and forced the Mexican military to release Guzman in order to prevent further loss of life. 
The 2019 failed capture operation features as a social media intelligence (SOCMINT) case study in the Knowmad OSINT field manual for near-real-time situational awareness. 
INCREASINGLY TAINTED DATA
If you want to take a retroactive look at the January 5 battle, remember to authenticate the materials you consume and establish their context. This can go as little as checking the comments to see if other users have pointed out issues with the posts or by taking matters into your own hands to geolocate, reverse image search, etc. As with any event heavily covered on social media, the Culiacan crisis quickly became buried in recycled footage from 2019, misattributed videos from other events (or even video games), and straight-out disinformation.
🇲🇽 Circula este video de una balacera en una ciudad como si hubiera sido grabado en #Culiacán, en el noreste de México, durante un operativo para capturar a Ovidio Guzmán, hijo del narcotraficante Joaquín "El Chapo" Guzmán, en enero de 2023.

Pero es falso ⬇ pic.twitter.com/4pYCZhmNgw

— AFP Factual 🔎 (@AfpFactual) January 5, 2023
However, when validated and diligently analyzed, the open-source material generated by this event can be a treasure trove. 
*I'll just go ahead and make some space on my shelf for the books written by DEA agents that were embedded with the Mexican forces during this operation
---
by Vlad Sutea
This post, like all articles from the "Seen through OSINT" category, aims to demonstrate the utility of open-source tools, resources, and techniques in gaining near-real-time situational awareness and insights into an event. The "seen through OSINT" label does not aim to produce a definitive or all-encompassing situation report of the covered events. 
---