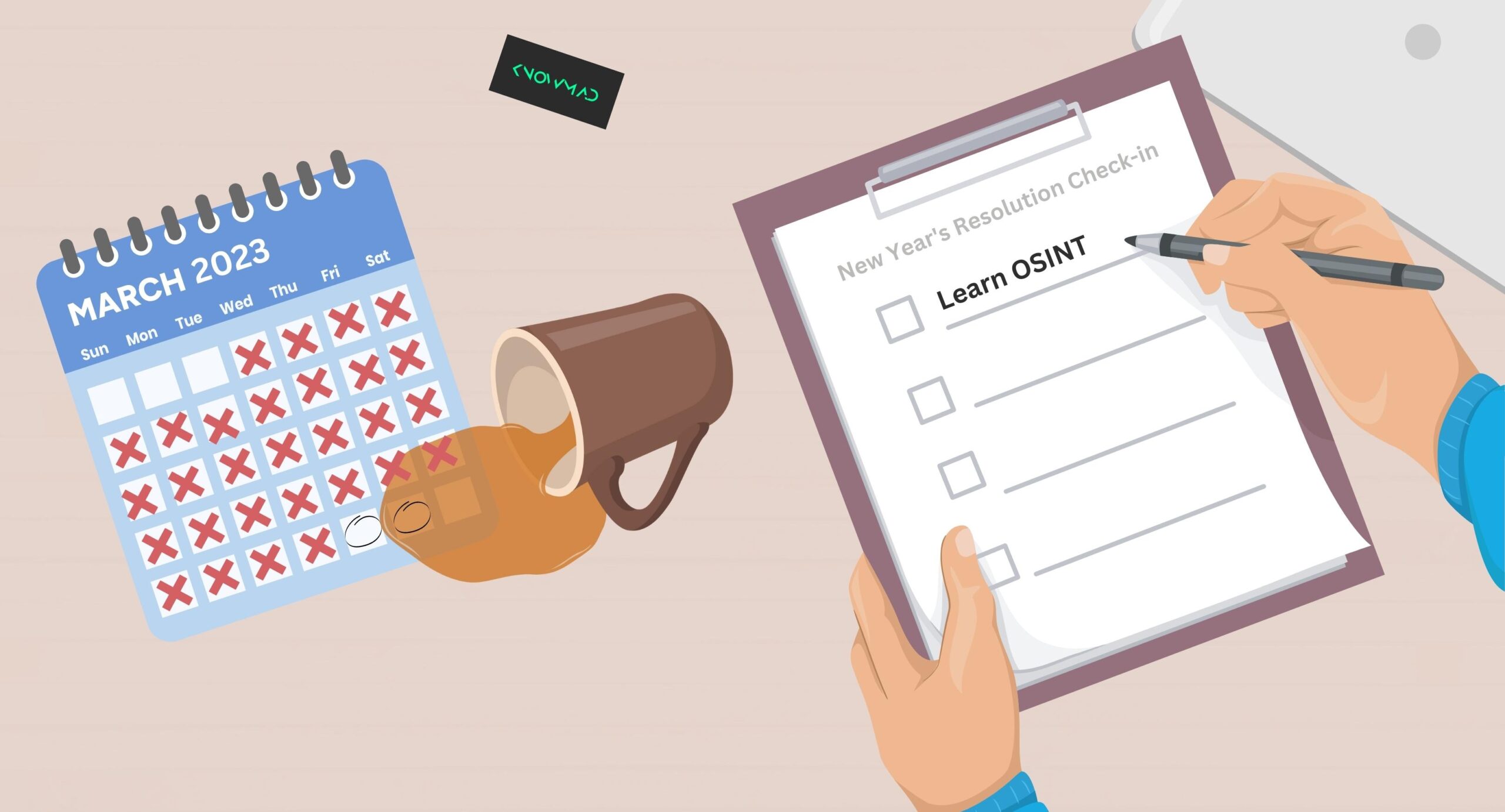 New Year's Resolution Check-In: Tips for Achieving your OSINT Learning Goals
As we approach the end of the first quarter (Q1) of 2023, it's a great time to evaluate how our new year's resolutions are going. 
If one of your resolutions was to improve your knowledge and skills in Open Source Intelligence (OSINT), then now is the time to reflect on your progress and consider some practical steps to get started.
Have you been actively pursuing your learning objectives? Have you found it challenging to stay motivated and stay on track? Maybe you're struggling to find the right resources or don't know where to start. 
If any of these scenarios sound familiar, you're not alone. 
Learning OSINT can be a daunting task, especially if you're trying to balance your work and social life on the side. But with the right resources and guidance, you can achieve your goals. 
Here are some tips to help you begin your OSINT journey:
Start with the basics: Familiarize yourself with the key concepts and principles of OSINT. Start with understanding what the "INT" part of OSINT is and how intelligence has been traditionally used by government agencies. Read books – my personal favorite is the Psychology of Intelligence Analysis – watch videos and attend online seminars to learn the fundamentals of OSINT.
Find reliable resources:

While many websites, blogs, and social media accounts can offer valuable information, it's important to keep in mind that most OSINT practitioners specialize in a certain domain or focus area. For example, some may specialize in geopolitics and conflicts, while others may specialize in cybersecurity. Therefore, it's recommended to identify the specific domain you're interested in before going down the rabbit hole of education OSINT resources. 

Join online communities:

Participate in OSINT-focused communities on social media and discussion forums to connect with other learners and professionals. Share your knowledge and learn from others.

Use free OSINT tools: There are many free and easy tools associated with open-source research that can help you turbocharge your research and progress up the OSINT ladder. Start with the basic ones, such as the Wayback machine (the internet's biggest website archive), Google Earth Web (snoop around high-res imagery of the globe from your browser), WHOIS Lookup (see who owns a website), Twitter Advanced Search (narrow down your Twitter searches), and Google Dorks (implement these tricks to streamline your queries or ask ChatGPT to help you with that).  
Take a structured course: Consider enrolling in an OSINT course that caters to your level and desired domain. Online courses can provide a more structured and supportive learning experience to help you achieve your learning objectives more efficiently and effectively than trying to teach yourself, especially if you are not a natural autodidact. With a clear curriculum and learning objectives, you will have a roadmap for your learning journey.
Obviously, we run an OSINT training that can help you meet your learning goals. Our training caters to both OSINT beginners and seasoned practitioners. It also provides an innovative and hands-on approach. Last but not least, the training is instructor-guided, providing expert interaction and feedback to help you reach your learning objectives.
And to help you get started on your OSINT journey, we're offering a 10% discount on our OSINT training. Use code ICANDOIT23 at checkout and take advantage of this limited-time offer. The discount code runs from March 30 to April 30, 2023. 
Want to know more about our OSINT training before signing up? Reach out and we will happily offer you a guided tour and answer any of your questions.
Remember, learning OSINT takes time, patience, and persistence. With the right resources and guidance, you can achieve your goals and enhance your skills in this critical field. 
Start small, 
stay focused,
and keep learning.
2023 has only begun. 
So don't spill your coffee, there's plenty of time left from this year. 
---
by Vlad Sutea
---